Sonia Laudet est artiste et artisan, mais surtout amoureuse du textile.
Dans ses compositions, elle parvient à nouer une conversation onirique, entre couleurs, formes et textures. Les lignes sont rondes et fluides, elles semblent même s'onduler. Les couleurs vibrent et se répondent. La flanelle épouse le velours, l'association est sensuelle et en appelle au toucher. On devine des fleurs, la lune, le soleil; c'est un retour à la contemplation du vivant, dans un langage intuitif et finement poétique.
Tout commence par le dessin; des centaines de petits croquis colorés, spontanés, libres, jusqu'à trouver l'harmonie la plus émouvante. Autour, des morceaux d'étoffes; des textures riches, une palette chromatique intense, ici on joue aux associations. Puis vient la technique, rigoureuse. Coupe, couture, mise en volume, et enfin l'objet prend vie.
L'essence de son travail repose sur ses trouvailles. Des chutes de tissu, du mobilier à l'abandon. C'est la mise en lumière de ses matières oubliées qui l'animent. Magnifier l'usure, provoquer les rencontres, jusqu'à entrer dans l'intemporel. Si son langage graphique est né sur des chaises chinées, elle continue aujourd'hui son exploration visuelle et sensorielle sur d'autres supports, comme des collages, des tentures, des suspensions, des paravents, des luminaires, et bien d'autres à venir.
Diplômée en design de mode, SL s'est ensuite tournée vers la tapisserie d'ameublement, séduite par la richesse des matières à travailler. Mais aussi éveillée par le bon-sens environnemental de ce métier. Elle voudrait inviter à consommer différemment et à repenser nos modes de production.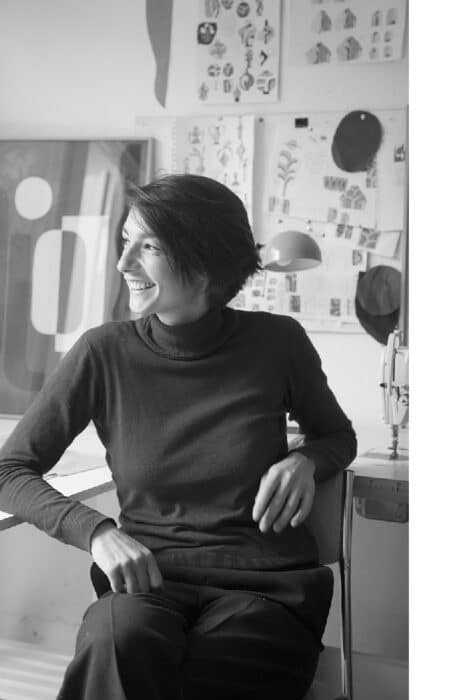 À travers ses différentes collaborations (Market Set, MamaHangs), SL parvient aujourd'hui à mêler sa vision artistique et ses convictions environnementales à plus grande échelle. C'est en utilisant des chutes textiles ou des productions défectueuses que des collections singulières sont nées. Ces matériaux délaissés sont les matières premières de demain.
Dans son travail, SL emprunte audacieusement des savoirs-faire aux arts décoratifs, à la mode et à la tapisserie d'ameublement. Entre art et ornement, elle à une approche singulière de la décoration d'intérieur.
« Notre intérieur nous ressemble et nous dévoile. Et si le textile entretien une relation extrêmement intime avec notre corps, de l'habit à l'habitat, il est aussi paradoxalement notre vernis social. J'essaie de rendre cette contradiction voluptueuse et imagée. »
Sonia Laudet ne cesse de faire évoluer son travail, sans jamais perdre son éthique et sa poésie.
Sonia Laudet is an artist and craftswoman, and especially a textile lover.
In her compositions she orchestrates a dreamlike conversation between colors, shapes and textures. The lines are rounded and fluid, and even seem to undulate. The colors are vibrant and respond to each other. Flanel marries velvet for a sensual association that calls for touch. One can guess flowers, the moon, the sun; it is a return to the contemplation of the living in an intuitive and intricately poetic language.
It all starts with drawing; hundreds of little colorful, spontaneous and free sketches up to the achievement of the most moving harmony. Around, fabric pieces; rich textures, an intense chromatic palette, we play associations here. Then comes the technique, rigorous. Cutting, sewing, translating into volume, having finally the object coming into life.
The essence of her work leans on her finds. Fabric scraps, abandoned furniture. Bringing these forgotten materials under light enlivens her. Magnifying wear and tear, provoking encounters, until entering timelessness. Whilst her graphic language was born on antique chairs, she today continues her visual and sensorial exploration on other mediums, such as collages, drapes, hangings, screens, lightings and a lot more to come.
A Fashion Design graduate, Sonia Laudet turned to tapestry, seduced by the richness of the materials at hand. Also marvelled by the environmental common sense of this profession. She envisions to invite to a different consumption habit and to rethink our production modes.
Through her various collaborations (Market set, Mamahangs), Sonia Laudet nowadays manages to intertwin her artistic vision and her environmental convictions on a larger scale. It is by using textiles scrap or defective productions that singular collections were born. These disregarded pieces are tomorrow's raw materials.
In her work, Sonia Laudet audaciously borrows expertise from decorative arts, fashion and home tapestry. Between art and ornament, she bears a singular approach to interior decoration.
"Our interior resembles us and unveils us. If textile keeps an extremely intimate relationship with our body, from garment to decoration, it is against all odds also our social varnish. I attempt to make this contradiction voluptuous and imaged."
Sonia Laudet continually develops her work, without ever loosing her ethic and her poetry.