SONIA LAUDET
Formée sur les bancs des écoles de mode, puis de tapisserie d'ameublement, Sonia Laudet mêle habilement ces deux disciplines. Sa démarche résolument contemporaine, assure une continuité entre son artisanat et sa vision artistique. De la restauration traditionnelle à la création de pièces uniques, elle explore toutes les facettes de sa spécialité en y insufflant un vent nouveau avec sa singulière créativité, et son exigence de la qualité.
Sonia Laudet parvient à nouer une conversation onirique entre un intérieur qui nous raconte et le siège dans tout ce qu'il a de plus poétique et fonctionnel à la fois. Mais ce fauteuil, il ne meurt pas d'une saison à l'autre ; il patiente parfois des décennies dans un grenier, mais étrangement, on s'y attache, on l'adore, même si ses ressorts nous narguent. Il fait partie de la famille, il connait toute notre histoire, il est presque vivant. Donner son fauteuil à restaurer, ce n'est pas un simple appel à la main d'oeuvre, c'est une confidence.
Et puis il y a ce fauteuil, celui qui nous raconte, qui a grandi avec nous et qu'on ne laissera pour rien au monde sur un trottoir parisien. Et puis il y a ce fauteuil, celui qu'on rencontre, qui nous ressemble et qu'on aimerait faire vieillir à la maison. Magnifier le plouc, redorer l'usure, jouer aux associations d'époques, jusqu'à en oublier la date et entrer dans l'intemporel.
En s'inscrivant dans la mouvance de la Slow Life, elle appelle à rénover, transformer, embellir nos vieux objet et leurs histoires, à consommer autrement.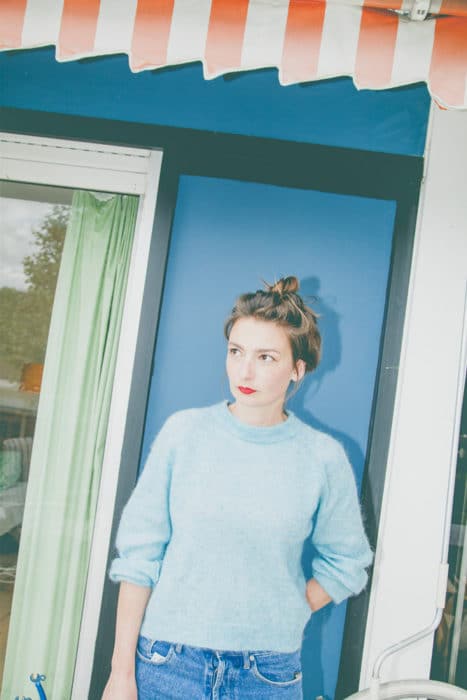 Trained in both fashion couture and upholstery, Sonia Laudet's work expresses a unique blend of the two disciplines. Her contemporary approach insures a continuity between her craft and her artistic vision. From traditional restoration to her original designs, she explores each facet of her work, continually integrating her singular creativity with her mastery of craft.
Sonia Laudet achieves a dreamlike conversation between the interior design and the poetry and function inherent in the seats she works with.
This is not the seat we replace season after season. This is the one that waits decades in our attic mocking us with its busted springs. Its the one we can't get rid of. Strangely its the one we love more with time. It belongs to the family. It knows our story. It is almost alive. Having your seat restored is not a simple call for labor, its a call for introspection.
Then there is another seat- the one that talks to us. The one we grew up with. The one we would never leave on a lonely Parisian side walk, not even for all the treasures in the world. And then another, one we saw ourself in and wished to grow old with in our home. We work on the family heirloom, we fix the worn out one, we play with time periods until we loose time itself.
Adhering to the Slow movement, she calls to restore, transform, and embellish our old objects; to redefine how we use.